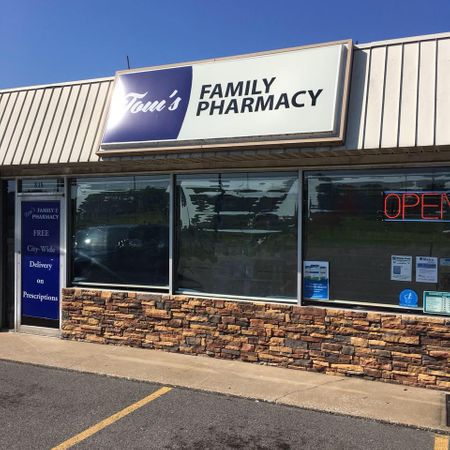 Tom's Family Pharmacy was founded by Tom Detraz in 1979. Tom built Tom's Family Pharmacy from the ground up and the building process of this independent pharmacy has been a ceaseless expedition as a result of its exponential growth and success over the years. While Tom himself has since retired, the Detraz family is still the backbone of the pharmacy and you may even see Tom pop in from time to time if you're lucky!
Here at Tom's Family Pharmacy, we continuously strive to go above and beyond to exceed and fulfill the needs of our patients and positively influence their lives by advocating the importance of a healthy lifestyle that every patient deserves to experience.
Patients who visit our pharmacy are very important to us, as we are responsible for improving their health. At Tom's you will always be greeted promptly with a smile by a knowledgeable team member who is dedicated to making sure you are taken care of. Our patients are our number 1 priority! Our team illustrates to our patients that we are their healthcare providers and we are dedicated to their health and well being.
Kathy Detraz, CPhT, Manager
My father, Tom Detraz opened the pharmacy. I took over when he retired. Born and raised in Hopkinsville, although I grew up in the pharmacy, I have only been working in the pharmacy industry for just over 20 years.
Chris Butler, PharmD
I am a graduate of Sullivan University in Louisville, KY. I am married to a wonderful woman who is a stay at home mom to our 5 children.
Brandie K., Pharmacy Technician
I started at Tom's in 2011, my husband and I have one son who is very active in travel baseball.
Jennifer, Pharmacy Technician
I started at Tom's in 2016 and absolutely love what I do! I now reside in Clarksville with my fiance. My father is a veteran, so I have lived in many places.
Ashly, Pharmacy Technician
I have been with Tom's since 2018 and could not be happier to work here!
Brandi S., Pharmacy Technician
Before coming to work at Tom's I was a sitter for the elderly. I sat with Tom's wife Bert until she passed. I feel very blessed to have known such a wonderful lady!
Linda, CPhT, Pharmacy Technician
I just recently joined the family here at Tom's, after working several years at the hospital pharmacy. My husband and I have 2 grown children and I have been a pharmacy technician for close to 30 years.